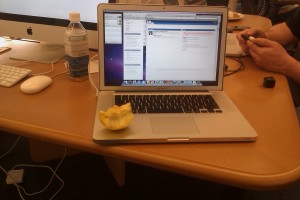 I love apple.  You?  Apple very Square, yet not square!  Tasty, and not tasty.
And so on.  Here are some very quick impressions from almost two days.
Square

Fun, fast-paced.
Cramped in the current SF office, moving soon.
Growing very fast.
Very awesome food.

Macbook

(I'll have to do a detailed post on this…)
Missing lots of keys

Unintelligible key combo hints in menu

Edges are a bit sharp
OS is so-so, very stuck on WIMP,I'm surprised there's not more innovation here
Touchpad is enormous.  And borderline non-functional.
I've got Ubuntu in a VirtualBox and I'm loving it.

Intellij Idea

In one singular case (extract method), it actually seemed smarter than Eclipse.
The rest, surprisingly so-so.
Missing flyovers of, well, everything.  Sometimes a man likes to hover without touching anything.
Wildly misleading web documents for Mac users.
Manages to have more property pages than Eclipse.
Is getting replaced by Eclipse soon, perhaps this evening.